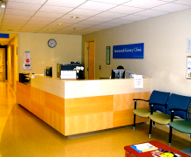 How do I get to the clinic?
The Clinic is located on the 13th floor of the North Building, at 585 University Avenue, near the intersection of College and University Streets. Our phone number is (416) 340-5077. Click here to view a map that will help you determine the best entrance for you, depending on your mode of transportation.
Please note that if you are using a wheelchair, and require transportation assistance, please enter through the University Avenue entrance, and ask the Information Desk to page a porter to take you to the Clinic.
Where do I go?
If you have never been seen at the University Health Network or Toronto General Hospital before, please go to the Patient Registration on the ground floor of the hospital at the University Avenue entrance to have your blue hospital identification card prepared. Please do this at least 1/2 hour in advance of your appointment time. Please check in with one of the receptionists at the Clinic (13th floor, room 1300, North Building) for this and any future appointments with any of our health care team.
---
For your visit you should bring:
Your Ontario Health Card
Name, Address, and Telephone number of someone we can contact in the event of an emergency.
A list of medicines you are taking now. Please bring the name of the medicine, the dose, and the number of times taken per day. Note that portable "medication records" are available in the clinic to assist you in always remembering your medications.
Any letters, reports, tests, or x-rays that your referring doctor may have asked you to bring.
Health Coverage: All of the services in the Immunodeficiency Clinic are covered by OHIP. It remains important that you have OHIP coverage for yourself. The Immunodeficiency Clinic is not responsible for coverage (payment) of medications, although we will help you to get any or all of the coverage that you may be entitled to under social and community programs. Patients not eligible for OHIP must pay for services at the time of (each) appointment: Reception can tell you how to do this.
Questions you might want to ask: By writing your questions down, it will help you to remember important things you may wish to talk about with your doctor or nurse.
After the initial paperwork is completed:
The Nursing Staff will take a history with you, orient you to the service, and help coordinate your visit. Trained volunteers may assist them in some of these functions. At the end of your visit, these same nurses can help educate you about new medications, proposed treatments, or medical services you might need.
Medical Specialists and/or their Resident Doctors
will talk to you about your present health problems and examine you. If you wish to have a family member or friend come in with you, check with the doctor or nurse. Some doctors like to see you first, and then bring your friend or family member in to talk after the examination is over. Your doctor will discuss his findings with you, and send a report to your family doctor.
Blood Work, X-ray, Laboratory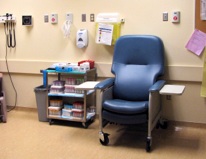 It will likely be necessary to do additional blood work or other tests to assist your physician in accurate diagnosis and treatment of your medical condition, and in understanding how your immune system is working. Most of these tests can be done right in the Clinic, but some may required that you go to other parts of the Hospital. This can sometimes involve a wait if these services are busy, but it is a necessary part of the assessment.
Psychosocial Assessment
Because it is usual for HIV infection to present social and psychological concerns, a psychosocial health care professional will meet with you on your first or second visit to check in with you about any concerns you might have. This will most usually be a clinical social worker. Even if you are not particularly concerned about any one issue, this is an important connection for planning your future health needs. You will be given a question sheet to help you better identify your areas of concern. The psychosocial health care professional can also answer any questions you might have about coming to the Clinic, or HIV infection in general, as well as provide or refer you to a range of services including legal, financial, counseling, and social support services. To save you time, your counsellor/interviewer can be arranged an hour before your physician appointment. Please ask reception if you would like to book this consultation in advance.
How long will I be at the hospital?
Please arrive at the time of your appointment, or 1/2 hr. earlier if you need to obtain your blue TGH hospital card. The first visit is usually quite long, at least 2 hours.
We recognize that this initial visit may be a stressful time for you and your loved ones. The extended assessment time means that we will take the time to ensure that your concerns are not overlooked, and that we are offering you the highest standard of care.
Before you leave the clinic, you should have:
A return appointment card
Seen a clinical social worker, or booked to see one on your next visit
Booked any other test appointments, if needed