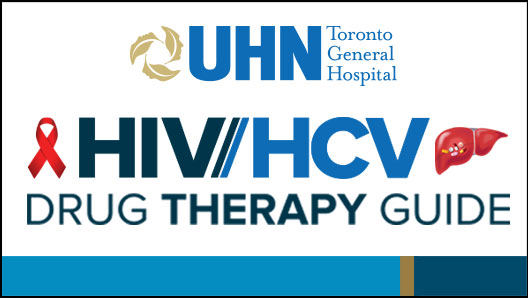 Our Interactive HIV/HCV Drug Therapy web application is now live!
This website application incorporates HIV and HCV pharmacology and drug interaction information in an easy-to-use, searchable and interactive format.
Drug Interaction Summary Tables
Concise, colour-coded quick reference charts for use in conjunction with our drug interaction application. These summary charts will be replacing the previous pdf tables which are no longer being updated. These tables are also available in a consolidated handbook in English and French. For more detailed drug interaction information, please visit our app.
Drug Name/Class
English
French
Acid suppressing Agents
pdf
Analgesics: opioids, opioid substitution, non-narcotics
pdf
Anticonvulsants
pdf
Anti-infectives: azoles and macrolides
pdf
Anti-infectives: TB drugs
pdf
Hepatitis C drugs
pdf
Cardiovascular drugs: antihypertensives, digoxin
pdf
Cardiovascular drugs: antiplatelets, anticoagulants
pdf
Cardiovascular drugs: lipid-lowering agents
pdf
Corticosteroids
pdf
Chemotherapy regimens
pdf
Diabetes medications
pdf
Genitourinary drugs: erectile dysfunction, pulmonary arterial hypertension
pdf
Genitourinary drugs: BPH, LUTS
pdf
Hormonal therapy: gender affirming
pdf
Hormonal therapy: contraceptives, hormone replacement therapy
pdf
Osteoporosis medications
pdf
Psychotropics
pdf
Transplant drugs
pdf
Recreational drugs
pdf
Vitamins, herbals, body-building supplements
pdf
Miscellaneous: ergot alkaloids, colchicine
pdf
Additional Resources:
For additional drug information, please visit the Additional Information for Healthcare Professionals page.
Disclaimer
The information in this site is intended for use by and with experienced physicians and pharmacists. The information is not intended to replace sound professional judgment in individual situations, and should be used in conjunction with other reliable sources of information. Due to the rapidly changing nature of information about HIV treatment and therapies, users are advised to recheck the information contained herein with the original source before applying it to patient care. Decisions about particular medical treatments should always be made in consultation with a qualified medical practitioner knowledgeable about HIV-related illness and the treatments in question.